Jan 27, 2010
Posted by

Campo-Formio
at 12:40 AM
No comments:

Jan 20, 2010
Yes! We played from January 7 - 17 NY, NJ and Philly with awesome bands like
Screaming Females
,
Natural Child
,
Pregnant
,
Stupid Party
, Teenage Whoremoans,
Subtle Turnhips
and more. Our great master friend Alejandro Nevares aka Farley came with us and documented almost the entire thing.
Here is a mini trailer on whatever the fuck the future brings. It might be a delicious compilation of sweaty videos full of energy and dementia.
Posted by

Campo-Formio
at 11:55 PM
No comments: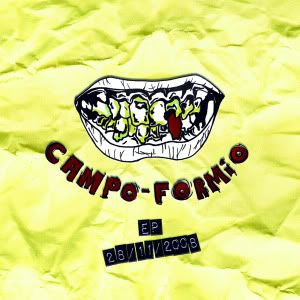 This is our first Ep. It is a self-released 7 track Ep. It was recorded, three months after the band was formed, live from 6:00pm-11:00pm on November 28, 2008 at Monopolio Records recording studio. It was released on June 13, 2009. We hope you like it.

TrackList:

1. Intro del Outro Tedioso / Outro Tedioso
2. Aquí
3. The General Passed Away
4. El Joke
5. Ambigua Soledad
6. La Mierda
7. Dying Breed / Bonus track(feat. Harry Rag)

Ep Link: http://www.mediafire.com/?zeny4mtnmq4
Album Art: http://i80.photobucket.com/albums/j175/tropuscan/300.jpg


Posted by

Campo-Formio
at 11:38 PM
No comments: